When it rains, it pours. New Home Furnishings Association member Doug Samsen might push back on that old chestnut because, for Samsen and his employees, 2020 has been more like a monsoon. 
First came the news in March that his Art Van store in Genoa, Ohio, was in peril after the furniture chain filed for bankruptcy. A few weeks later, the novel coronavirus shut down his business entirely, along with most other retail operations in Ohio. 
Samsen could have thrown up his hands in resignation. Instead, he rolled up his sleeves and went to work. 
"Let's just say it's been a challenging year," said Samsen. "We've done a lot of scrambling – and we still are – but every day, every week, things are getting better."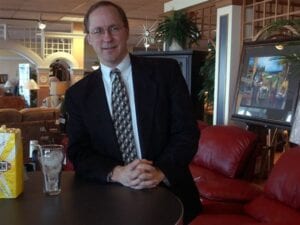 Today, Samsen's Art Van store is now Samsen Furniture – a return to its original name and independent status started by his father, Robert, and grandfather, Walter, in 1951. 
In many ways, Samsen misses the affiliation and perks that came with being a franchise to a Top 100 company – access to inventory, for starters. Over time, Samsen is remembering some of the perks of going it alone.  
Better control as an independent
"We've got control again of our own messaging and advertising costs," he said. "We've got control of our merchandise, and to me what we're putting on our floor is very important moving forward." 
It's also been very difficult finding the right manufacturers to supply that desired inventory. Samsen has found some local distributors, but supply has still been in fits and spurts. "We've done a good job with (sales) in getting the customer to wait. I don't like it, but getting what we need is something we don't have control over right now. I think it's going to be like that for a few more months. We're not alone with this problem. A lot of retailers are in the same boat." 
When his father and grandfather first bought an existing furniture store-funeral home more than 60 years ago, one of the first things they did was clean house. That meant they quickly got out of the market of selling undertaker supplies. Shortly after that, appliances such as Hoover vacuum cleaners followed. 
So, in a way, Samsen is only returning the family store to its roots. He wants to sell a higher line of furniture than what he was offering under the Art Van name. He's working with La-Z-Boy, England, Flexsteel, Liberty and other manufacturers. 
"In a way, it's like we're starting over again, only now we have the experience and name behind us," he said. "It's busy and we have some obstacles to overcome, but everyone here is excited. We're going to get things done."
Not a member of the HFA? Consider joining the community!