When demonstrations turned destructive in downtown Denver last week, Howard Lorton Furniture & Design stood in harm's way.
"We have been vandalized. We're wounded but we're still open," the 93-year-old business reported on its website.
Its Facebook messaging was equally positive.
"While we have been vandalized, we will be open today," it announced Saturday. "We will not let the actions of a few hold us back. We will, however, close early and be paying close attention to guidance from the Mayor's office and Denver Police."
"The thing is, I'm not angry. I'm sad," said Margot Cook, senior manager for business development. Her husband, Will, is president of the company and the great-grandson of founder Howard Lorton. They support the message of the protests that followed the latest death of a black man in police custody. But vandalism and looting were something else.
Margot Cook was speaking Monday morning as she arrived at the store, located on the corner of 12th Street and Broadway. She found new graffiti that had been applied to the building overnight but no further damage.
Intruders broke in two nights in a row
The trouble began Thursday night, after peaceful protests had concluded. Howard Lorton's Patio Shop, which fronts Lincoln Street around the corner, had been broken into. The next night, it was the main store's turn. Windows were smashed, and there were obvious signs that intruders had entered. In all, however, little damage was done inside and only one accessory was taken.
"They could have taken anything but didn't," Cook said.
Cook kept customers and the public informed through social media posts.
On Saturday: "Denver – we love you, we're strong, and we'll get through this together."
"Our heart goes out to the Denver Community and our Nation."
"We pray for peaceful protests this evening as we know that's what the organizers want as well."
Protesters and vandals weren't the same people
Cook said she knew what protest leaders planned because she followed them on Twitter. The problem wasn't the people who came out to protest, but those who took advantage of the protests to make trouble.
On Sunday: "We are open today until 3. If you're thinking of coming down give us a call – we can wait or stay late."
"Broadway is open to 12th so you can still enter our parking lot off 12th."
"Last night the only damage we suffered was graffiti to the boards we put up and some to the brick. Our neighbors along Broadway between 11th and 12th have all boarded up too."
"Thank you to the volunteers with Black Lives Matter and the Golden Triangle District who were out this morning cleaning up our city streets. Thanks to BurgerFi for giving free food to those volunteers."
And later Sunday: "We are preparing to close for the evening. Praying for peaceful protests."
Cook worked with her media consultant to fashion these messages, which stressed the positive. She also was interviewed by a local television station.
Another hit shortly after reopening
"I feel awful for the family of George Floyd (the black man killed in police custody in Minneapolis) and what our community and the country is going through right now," she told CBS4 News. "But it's hard to see your livelihood impacted again after being closed."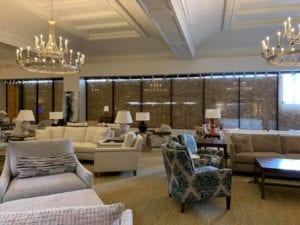 Howard Lorton reopened May 9 – with only half its staff, so far – after long weeks of state stay-at-home orders kept it and many stores closed. But customers were beginning to return. After the recent troubles, however – and likely because of the media coverage and positive messaging – Cook has gotten many encouraging calls.
"People are saying, 'We want to support your business.' Some are customers from the past, but some are new," Cook said.
She estimated damages at about $20,000 – and that carries a warning Cook wanted to pass to other Home Furnishings Association members: Check your insurance policies. Hers doesn't cover damages inflicted by "riots."
Who would expect damages triggered by demonstrations in downtown Denver? But then, who would have predicted a global pandemic forcing businesses to close for nearly two months?
"At some point," Cook asked outside her boarded-up, graffiti-marked store Monday, "things have to get better, right?"
Then she answered her own question: "I don't know when that is, but they will."
[More loan funds coming to HFA members]
Feeling grateful in Saint Paul
In Saint Paul, Minn., Tetra Constantino was feeling grateful Monday. He and fellow retailers on University Avenue heeded warnings to close and board up their businesses for the weekend. His furniture store, HFA member Elsa's House of Sleep, was untouched.
Much of the credit belonged to National Guard forces who took control of the street.
What's more, "thousands of volunteers" had cleaned up the neighborhood, Constantino said.
"We saw the down side of humanity and the up side of humanity in the course of 24 hours," he said.