Pennsylvania's message wasn't clear enough.
"We strongly urge non-essential businesses across the commonwealth to do their part by temporarily closing as we work to flatten the curve and protect the health and safety of all Pennsylvanians," the director of community and economic development said late Monday.
Ronne Kurlancheek, owner of Kurlancheek Home Furnishings in Forty Fort, Pa., closed her store.
Perry and Lora Sigesmund, owners of PerLora Furniture and Design in Pittsburgh, also shut down their three locations.
John V Schultz Furniture and Mattress in Erie reduced store hours but remained open, although President Matt Schultz didn't know how long that would last as many fewer customers were coming through the doors anyway.
Counting your blessings
Kurlancheek wasn't pleased that one of the larger stores in her part of eastern Pennsylvania was still operating, but she was counting her blessings today. "I've had three very nice phone orders the last three days," she said, including one today. She and her employees were still in the store, answering the phones and doing paperwork, and they planned to continue deliveries for the rest of the week. And then?
"I am thinking about everything," she said, "but it's not fully baked."
Kurlancheek hasn't sold through her website before, but she might show some close-out pieces on her Facebook page, she said. She also thought about sending designers on house calls, "but maybe I should not do that for two weeks. But I might if this goes on for several months."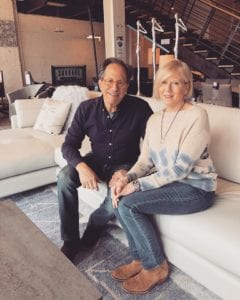 The Sigesmunds were at home, where Perry said his phone was ringing constantly. "We're scrambling and figuring out what to do," he said today. "We can do a little bit of business with clients via Skype, and we've gotten a few orders today."
The big fear is that the crisis will continue for more than a couple of weeks.
"For a small business to be shut down for a long time is very difficult," he said.
Employees are looking for answers
PerLora's warehouse was open today for customers who wanted to pick up orders, but Perry said he didn't want PerLora trucks out on the streets where people might think the business wasn't following the recommendation to close. Besides, "the most important thing is for everybody to stay healthy."
But everyone feels the uncertainty, including employees – some of whom have been with PerLora since it opened a quarter-century ago.
"They're scared, too," Perry said. "They want answers, and they're looking to us for answers."
[Employees of closed businesses may apply for unemployment benefits]
Matt Schultz isn't only president of John V Schultz. He leads the Home Furnishings Association's Government Relations Action Team, which is urging Congress and the Trump administration to provide financial assistance for businesses as well as workers during the weeks ahead.
Traffic in Schultz's store is "way off," he said. Open orders are being delivered – although some customers don't want delivery crews to come into their homes. Schultz does online business, but it  normally accounts for a small portion of total sales.
'We're going to get through it'
"Anybody can only go so long when they have landlords and big rent checks due," Schultz said. "We're communicating with our employees so they know what's going on. But this is uncharted territory."
Still, it's hard to keep good retailers down.
"We're going to get through it," Perry Sigesmund said. "Everybody's got to be strong and take care of your family."
"We'll ride it out," said Kurlancheek, who rebuilt in Forty Fort after her store in Wilkes-Barre was destroyed in 2018. "Remember, we're the ones who rode out the tornado!"
And that is a clear message.
[See HFA's COVID-19 resources page]