Member Special
HFA members can log in to see the benefit this partner offers.
Shoptelligence is the Home Furnishing industry's leading solution to increase order size quickly, helping retailers grow revenue per buyer by 30%+.  Our AI-based platform reasons like a designer to help shoppers discover more of a retailer's assortment by providing interactive rooms around any item a shopper is viewing.  It's a fun, interactive experience that when buyers use, they stay onsite 6X longer, actively consider 2X more products and add 42% more items to their orders.
Integration is easy and fast – it requires only a retailer's basic product catalog and adding two lines of code to a retailer's website, and clients experience results in just weeks.  It works online, in store and with email to help retailers get more out of their existing traffic and increase customer lifetime value.
With membership, you can expect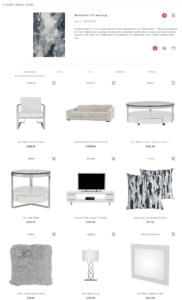 Completed room assortments for every item in your catalog, automatically accounting for inventory changes (see image at right)
30%+ (average $250) increase in revenue per engaged buyer (see case studies)
40%+ increase in items per order from engaged buyers
6X increase in time on site from engaged shoppers
Increased word-of-mouth promotion from Pinterest sharing (included feature)
Email leads sent to the store with items the shopper liked online (included feature)
Seamless experience and customer profile across eCommerce, in store and email to maximize customer lifetime value
Easy-to-implement sales associate solutions for virtual and in store selling
Get The Details