HFA Resource Center, Showroom B1050
The Home Furnishings Association's Resource Center is located at #B1050 and is filled with opportunities to learn how to grow your business, for HFA members and non-members alike. Drop in for a cup of coffee, or snacks, and meet with our Showroom Exhibitors, who are experts in their field ready to help solve your pain points and offer discounts and specials to HFA members, like member-only Synchrony consumer financing rates and more! Network with like-minded peers, and enjoy a variety of seminars that cover the most important aspects of being a competitive retailer in today's market.
HFA RESOURCE CENTER HOURS
8:00am – 5:00pm      On-Site Barista Serving Coffee Daily 
8:00am – 10:00am    Breakfast Served Daily
11:00am-5:00pm         Sat. 7/29
8:00am-6:00pm           Sun. 7/30 – Tues. 8/1
8:00am-12:00pm         Wed. 8/2
CLOSED                         Thurs. 8/3
HFA MARKET SEMINAR SERIES
Our showroom is filled with opportunities to learn how to grow your business. Meet us at the HFA Resource Center and enjoy a variety of seminars that cover the most important aspects of being a competitive retailer in today's market. Click on each day below to see each daily list of seminars you won't want to miss!
9:00 am – 10:00 am
Drive Profits with Customer Experience Strategies
Jonathan Schulman, CeXperentia
Do you know what your customers think about your store? Not having a clear and intentional Customer Experience program is like throwing money down the drain. It's no coincidence that the most successful businesses have excellent Net Promoter Scores. These companies understand the importance of keeping their customers satisfied in order to increase their profits. Join us to discover proven strategies for uncovering the voice of your customer and building a loyal fan base. 
Add to Calendar
10:30 am – 12:00 pm
Increase Your Sales by 30% in 3 Easy Steps
Rob Ball, HFA Sales Academy
Tired of struggling to increase your sales? Imagine boosting your sales by 30% with just three simple steps. Learn how to optimize your conversion percentage, average sale, and increase traffic to your store. These three methods are proven to help you grow your business month after month. Don't fall behind the competition, top-performing stores have already adopted this approach and are seeing huge profits. 
1:00 pm – 2:00 pm
Lead Management Practices that Drive Traffic and Sales
David McMahon, PerformNOW, Inc.
Consumers are engaging with your brand digitally. How are you converting those digital engagements into in-store customers and providing experiences that generate repeat business? Learn how other businesses are achieving a higher close rate, more traffic, and larger average sales. Come see how the combination of automation, and people performance can lead to long-term business growth.
2:30 pm – 3:30 pm
Unlock the Power of Social Media to Generate Sales
Crystal Vilkaitis, Crystal Media
Are you looking for more meaningful and consistent social media results? Stop being the best-kept secret and start operating your social media with a plan. In this session, you'll gain clarity on the real reasons why your social media does or doesn't work, and how to connect with your audience and generate sales with the easy Daily 5 Process (post meaningful content in 5 minutes a day). You'll adapt how you currently think about social media and leave with the actual framework you need to commit confidently to making a change to your strategy. 
4:00 pm – 5:00 pm
Reach Your Target Audience With Streaming Advertising
Eric Grindley, Esquire Advertising
We will look at the past, present, and future of streaming television advertising. We'll explore how retailers can use it to their advantage to acquire customers, increase market share and grow their businesses – all while gaining an insight into its benefits & challenges. By learning groundbreaking techniques for targeting audiences online with ads that captivate potential buyers across different platforms – attendees are sure to leave feeling empowered as they navigate this ever-changing field!
9:00 am – 10:00 am
Lookalike Targeting: Double Your Reach with New Digital Marketing Techniques
Cameron May, Conquest Digital Marketing
Transform your store's success by reaching a wider audience! Don't miss out on the opportunity to attract more customers like the ones who have already shopped with you. Take your sales to the next level with insider tips on the latest digital marketing techniques, including "Custom Audience Targeting" and "Lookalike Targeting". By attending this session, you will upgrade your digital marketing game and watch your revenue soar!
10:30 am – 11:30 am
Discover the Game-Changing Benefits of Supplier Fulfilled Retailing
Iman Schrock, Gigacloud Technology
Are your inventory management struggles draining your profits? It's time to think outside the box with supplier-fulfilled retailing.  In this session, we will dive into this groundbreaking business model that takes inventory and direct fulfillment off your plate and puts it squarely in the hands of your suppliers. You'll learn all about the incredible benefits of this approach, allowing you to focus on what you do best: driving the traffic and converting those sales. Don't miss out on this game-changing opportunity to streamline your processes and see your profits soar.
1:00 pm – 2:00 pm
Bridging the Gaps Between Bricks and Clicks Customer Experience
Logan Taylor, Podium
Bridging the gap between clicks and bricks is often a challenging road for many local retailers. With a focus on in-person experiences, local retailers can overlook the importance of an online presence, showing up in search results, and even modernizing payment options. Join us in this free webinar while we delve into five key areas that can help you connect your online and offline retail customer experiences to drive more sales for your local retail business.
2:30 pm – 3:30 pm
The State of Marketing: What's Coming Next
Richard Harris, Orbit Interactive
The current state of marketing is in constant flux – Cable and TV viewership is waning, online privacy has transformed, and social media evolves minute by minute. It's an ever-changing landscape, and adaptability is key. What's on the horizon for Traditional and Digital marketing? Where should businesses focus their efforts to stay ahead of the curve? The future may be uncertain, but by attending this session we will help you prepare.
4:00 pm – 5:00 pm
Take Control of your Inbound Supply Chain
Jenni Kimpel, J.B. Hunt Final Mile Delivery
Are you a retailer looking to manage inbound freight better?  Taking control of your inbound supply chain is key to reducing costs, improving customer service levels, and streamlining operations.  Our seminar will show you how to better understand your options and effectively manage costs.  You'll understand the different methods available when it comes to transporting goods so there are no surprises down the road.
9:00 am – 10:00 am
Sales Training for Today's World of Retail
Vincent Mendez & Stacy Hafliger, ProtectAll by GBS Enterprises
It's no secret that the retail sales environment has evolved drastically over the last 10 years. As our business needs, our customer demands and our employee expectations change, we must also ensure our training programs shift to meet the needs of our business and the people in it! In this session, we will explore the intersection of a traditional sales training program and the modern sales experience while sharing simple ways to reignite your team's passion for learning.
10:30 am – 11:30 am
How to Avoid 4 Common Pitfalls in Your Ecommerce Website
Kasper Fopp, Wondersign
Your online presence is crucial to reach today's Omnicommerce shoppers. However, with so many different components to keep updated, it can be easy to make mistakes that could hurt your sales. In this presentation, we'll cover four common pitfalls that retailers often face and offer practical tips for avoiding them. By improving your eCommerce website, you can provide a much better experience for your customers, boost your SEO, and drive more sales. Don't miss out on this opportunity to take your online presence to the next level!
1:00 pm – 2:00 pm
3 Business Strategies to Drive Cash Flow
Dan Jablons, Retail Smart Guys
In this economy, who doesn't want some extra cash? But how can you get more cash out of your business? In this session, you will learn 3 strategies that you can adjust in your business to help you free up significant dollars and improve your cash flow. So, whether you're a seasoned entrepreneur or a startup just getting off the ground, these adjustments are sure to be game-changers for your bottom line. Don't miss out on the chance to make your business boom!
2:30 pm – 3:30 pm
Revolutionizing Retail: How Technology Can Enhance the Customer Experience
Russ Reynolds, FormPiper
We will discuss the benefits of utilizing various technologies to streamline and manage customer interactions in the retail industry. With the right tools, retailers can enhance the customer experience, increase customer satisfaction and loyalty, and maintain a positive brand image. Attendees will gain insights into how to leverage technology to streamline their customer interactions, increase operational efficiency, and stay competitive in the retail market.
4:00 pm – 5:00 pm
Hulu, YouTube TV, Netflix how to buy CTV Advertising
Richard Harris, Orbit Interactive
The world of streaming TV is expanding rapidly, with a host of new channels and buying options. But how do you know if it's the right fit for you? Whether you buy traditional TV or cable and how do you measure success in this new era of CTV advertising? Discover the inner workings of streaming TV, how it's measured, and effective ways to make the switch from traditional TV. Whether streaming TV makes sense for everyone is up for debate, but with this guide, you'll have the tools to make an informed decision.
Our exhibitors are experts in the furniture retailing industry and are here to help you streamline your businesses, drive more store traffic, and help you grow revenue. See the full list of exhibitors and their services below and be sure to stop by during market for market specials and to find out how they can help improve your business.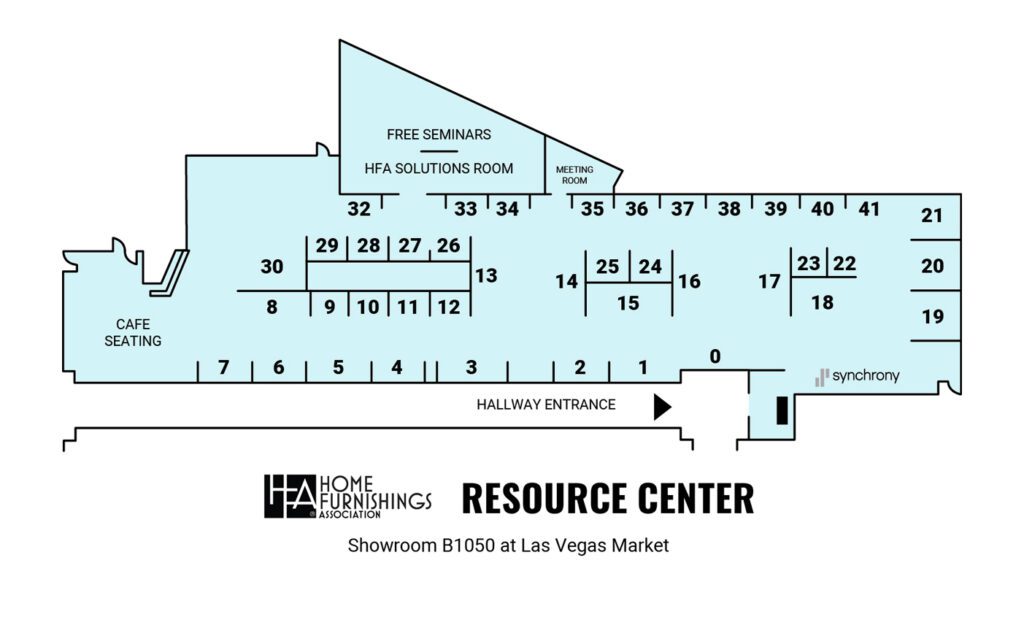 MARKETING/WEBSITES/CUSTOMER EXPERIENCE TECHNOLOGY
PRODUCTS/SERVICES/CONSULTING
INSURANCE/WARRANTIES/PROTECTION
DispatchTrack's delivery platform is designed to help retailers optimize routes, track their deliveries from a single dashboard, gain real-time visibility, and cut carbon emissions. Fast deployment, constant cloud-based updates, and end-to-end functionality give you the tools to optimize the last mile and exceed customers' expectations.
Speedy Delivery LLC (SPEEDY​) is a third-party logistics (3PL) provider of warehousing, distribution, and Last Mile delivery. SPEEDY provides innovative logistics solutions, and is committed to its mission: "Not Just Last Mile—The Extra Mile"​.
Check out photos from LAST MARKET!