Home Furnishings Association members should reassure their customers.
"In these uncertain times, we want you to know that we here at Klingman's Furniture and Design are doing everything we can to ensure that our showrooms are safe and clean for your visit," the Michigan retailer said in a Facebook post March 13.
"We are monitoring the CDC alerts and taking any additional measures necessary. At this time we plan to continue offering you the very best in service and products by maintaining our normal business hours. To decrease the risk of exposure, we have canceled all market travel plans and are asking ill employees to stay home. We also would like you to know that most of our furniture is available to view on our website and by using our online chat feature, we can discuss your project from the comfort of your home."
Sarah Paxton, president of LaDIFF in Richmond, Va., posted a similar message on the furniture store's Facebook page March 12.
'New and vigilant cleaning routines'
"LaDIFF has been taking many safety precautions to protect the well-being and health of our staff and our customers. New and vigilant cleaning routines are practiced throughout the day, and giant tubs of hand-sanitizer stand available at our main desks.
"Our design team is waving instead of handshaking to meet and greet those clients who visit in person, aware of 'social distancing' recommendations. Web, phone, & video-chatting methods are available for those who prefer to shop from home. While we know that the best way to experience LaDiff's selection is in person, we stand ready and able to assist you with questions and design help however you wish to shop. …
"For deliveries to your home, our team is prepared to wear plastic gloves for installation, at your request.
"Your health and our team's health are our utmost concern. Take care of each other, and we look forward to seeing or hearing from you very soon," Paxton wrote.
Address customers' concerns
Klingman's, with stores in Grand Rapids, Lansing and Holland, Mich., and LaDiff are far from alone. As COVID-19 infections and anxieties increase, customer-facing businesses like furniture retailers must communicate clearly and effectively. Customers must feel it's safe to come through the front door – or they won't.
So, retailers should tell them why it's safe. They must state emphatically that employees who are sick are sent home. Retailers also should consider posting signs at entrances asking anyone who is sick to please not come in. Customers don't want to be in a store with employees or other customers who are sneezing or coughing.
Letting customers know that the store is thoroughly and frequently cleaned is an important way of calming their concerns. In addition to providing hand-sanitizer, retailers also can have disposable wipes available so that customers can clean door handles or other commonly touched surfaces for themselves. And presenting ways for your customers to purchase without coming into the store can help you make sales you otherwise would lose.
Paxton at LaDIFF also has addressed customers' questions about the safety of products made in China and Italy. She researched the question and assured them that the virus cannot survive on surfaces or packaging long enough to pose a threat.
Find ways to separate people
Some retailers are also keeping employees apart from each other as much as possible. If there are two shifts for warehouse workers, for example, they can leave a gap of an hour between shifts. That way, first- and second-shift workers won't come into contact with other. A cleaning crew could work between those shifts.
Retailers can limit the physical area that employees occupy during a shift. A sales associate in the mattress department may not need to visit the showroom where recliners are displayed. And so on. That also can limit the area that would need deep environmental cleaning if that mattress sales associate were to come down with the disease.
Klingman's, which traces its origins in Grand Rapids to 1889, added:
"It is important to us that we stick together as a community in challenging times like these. Please do your part by washing your hands, staying home if you're ill and remaining calm. It is unsettling to have both our health and livelihood threatened at the same time so we ask that if you are feeling well, please swing by your local small businesses and show them some love. We will get through this together!"
Have conversations with customers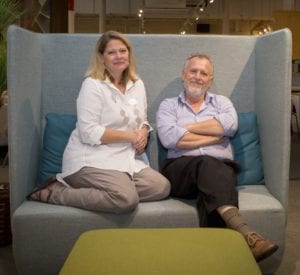 "I hope it makes people feel better," Paxton said of LaDiff's message, which was also conveyed by email and on Instagram. Responses were positive, especially from regular customers. Still, "traffic has been very, very slow the last three days," she said Friday. At the same time, more customers participated in web chats and video messaging, and "I think we'll see more of that this weekend."
Having conversations with customers about their concerns is important, Paxton added. For deliveries, LaDIFF asks them, "Tell us what makes you comfortable having them come into your home."
But that cuts both ways. Delivery personnel want to protect themselves from possible infection inside someone's home. Employers need to see to that, as well.
Other HFA members post similar message
Many other HFA members have begun posting similar messages in the past few days. They include:
John V Schultz Furniture & Mattress.
The Cleveland Furniture Company.
HFA provides important information
The Home Furnishings Association has a web page with COVID-19 information, including:
Centers for Disease Control guidance for businesses and employers
Department of Labor guidance on preparing workplaces for COVID-19
CDC environmental cleaning and disinfection recommendations
As LaDiff's Sarah Paxton wrote, we can all take care of each other. For members of the Home Furnishings Association, that means sharing best practices for keeping employees and customers safe and business healthy.