Investing in your staff is one of the best ways to give your organization an advantage over others. Keeping your teams sharp and engaged in the highly competitive furnishings industry can be a differentiator. This can be done with an effective learning method to train employees.
Following a tried-and-true model is recommended to ensure that you achieve the desired results from the training presented within your organization. One of the most popular instructional design methodologies, the ADDIE model, is an easy-to-follow process with a step-by-step systemic approach. ADDIE stands for Analysis, Design, Development, Implementation, and Evaluation. It can be used for in-person and online training. ADDIE will provide a standard for the Instructional Designer to ensure that every course has a consistent design and high level of quality that you expect.
Analysis (A): 
During Analysis, fundamental questions such as Who, What, When, Where, How, and Why are discussed. Through a needs assessment, the goals of the course are created, and the target audience and knowledge are identified.   The anticipated return-on-investment (ROI) and ensure that they align with the strategy and goals of the organization.
Design (D):
The Design phase uses information collected during Analysis to begin brainstorming on content, tools used, and the delivery style. The content is then mapped out with a timeline to ensure information is presented logically. Objectives are developed, tests are created, and the blueprint of a prototype plan is drafted.
Development (D):
This is where the actual organization and construction of the program begin. The different components, such as videos, tests, workbooks, and scripts, are built. The content should be regularly tested to ensure that it conveys the message and information in a digestible manner.
Implementation (I):
During Implementation, all interested parties must prepare themselves and the learners for the learning experience, including allowing time to properly engage in the training once the content designers are satisfied with the content. Learners need to understand the new duties and responsibilities they should be able to perform.
Evaluation (E):
At each stage, the process may need to revisit and refine prior steps. Improvements should be the focus during each step, especially the Evaluation phase. Feedback from participants and observers should be collected and used to create a more meaningful experience for each new participant. Interested parties should be able to verify that the transfer of knowledge has actually occurred to determine the true return on investment. A review of the goals established during the Analysis phase should be used to determine if the training's purpose was achieved.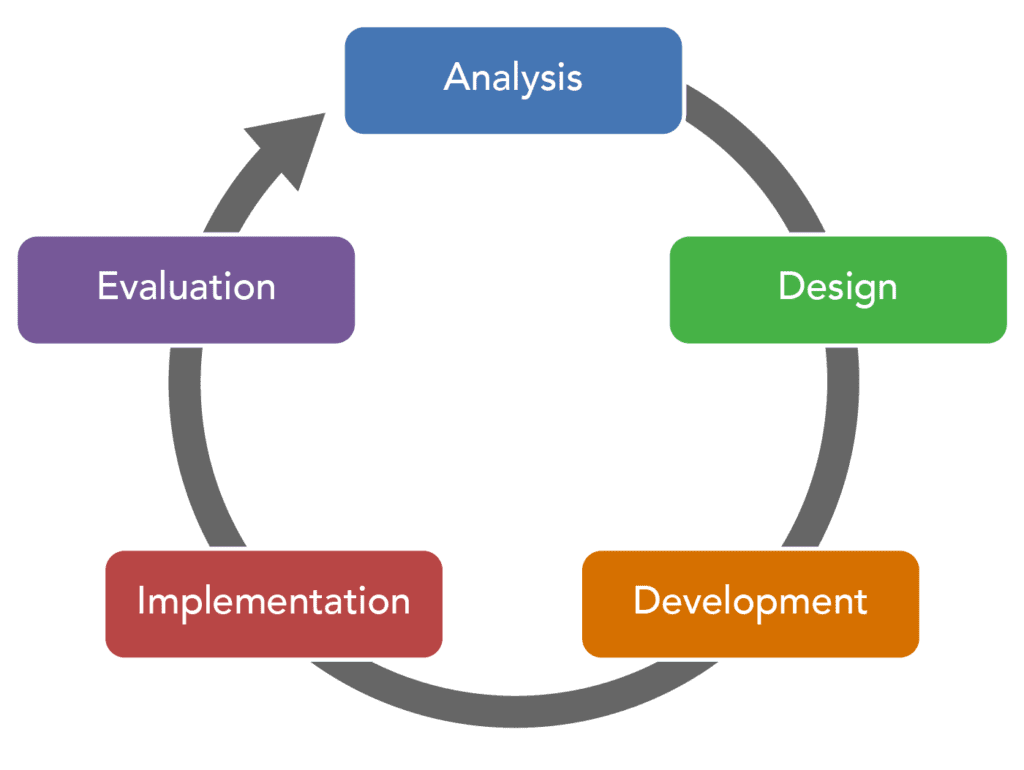 ADDIE is a circular model used to train employees that calls for constant improvement to perfect and update content continually. This will ensure that information is delivered and remains relevant and fresh.
Most organizations use a Learning Management System (LMS) to track, assign and record training, especially for compliance-type learning. There are even some LMSs designed for smaller organizations with less than 40 users. An LMS can also be used to deliver E-learning and provide On-Demand training to provide refresher or just-in-time learning opportunities. It's a great way to deliver content to workers in various locations, or remote learning, in a consistent manner. It is a flexible, focused, and streamlined approach to creating coursework.
In addition to the ADDIE model, other great instructional design methodologies include Merrill's Principles of Instruction, Gagne's Nine Events of Instructions, Blooms Taxonomy, Dick and Carey Model, Kemp Design, and numerous others. The best one is the one that works well for your organization.
Whichever one your organization uses to train employees, consistency is the key to creating the best results for effective training. When participants anticipate a quality learning environment and material, they will show up better prepared and retain the information at higher rates. Employees will appreciate your investment in their success and careers, which can help production and retention rates in your organization.
CLICK HERE for more HR resources from HFA.