As an eCommerce manager, one of your main goals is to increase the average order size on your website. There are a few key ways you can do this, and we'll explore them all in this blog post. You can see a significant increase in your average order size by making a few changes to your website and how you operate. Let's look at how to do this.
What is an Average Order Size (AOS)?
AOS = Average Order Size is the average amount per order during the selected period.
Sometimes AOS can also mean AOV = Average Order Value.
These two terms are interchangeable and are commonly used to analyze web sales performance.
Why is AOS important?
Increasing a website's AOS not only can help increase your revenue, but it can help improve profitability. In addition to increasing your profitability, keeping your web sales performance in mind will only help increase your conversion.
AOS means you look at all the buyers who've come to your website, add all their revenue, and divide that number by the number of transactions that occurred in that period. 
For example, if you look at a 30-day window of sales and the total revenue for the site in that period is $100,000 with 1,000 transactions, your AOS for that 30-day window would be $100, which is $100,000 divided by 1,000. 
Here's a formula based on AOS to help understand your online sales performance.
AOS x
TRAFFIC x
CONVERSION x
REVENUE
How do you start?
Start by determining what your AOS is today. Use it as a starting point to measure your growth.
I recommend using free tools like Google Analytics. There are plenty of back-end tools out there that'll help you monitor your web performance. 
How can one improve AOS?
1. Create bundles or sets
Based on what you are selling on your website, outline all the ways your clients would like to purchase the product category. 
For example, if you are selling dining chairs, ask yourself does your client naturally want to purchase sets of dining chairs. If that is a natural decision, build a new listing page that sells two dining chairs at once.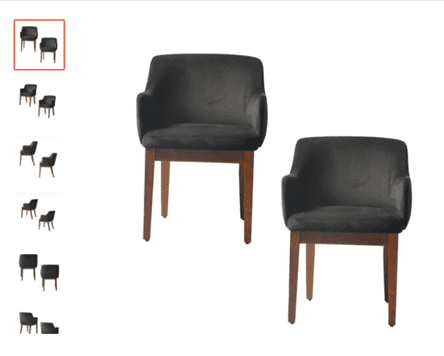 Tip, usually, shipping two items in one box could provide shipping savings. You can decide if you want to pass these savings to the client to help convert that client to purchase two vs. one stool. 
2. Incentives (buy X to get 10% off or receive a freebie)
Similar to what is shared above, you can decide to reduce your margin goal when buyers decide to spend more on your site. For this, I recommend setting a goal overall for the website while considering what your AOS is today. 
Say your AOS is $50 today, and you want to lift it to $60. You can offer an incentive to offer free shipping – if they purchase at least $60 of products on your site. 
Please note that your conversion rate plays a role here as well, and it's good to take note of this as well since increasing your AOS could reduce conversion as fewer people may want to spend more. 
3. Featured or related products (showing top sellers or best sellers that are higher AOS)
Based on your AOS goal, look at reporting that shows items that either hit that AOS goal but also has a conversion rate higher than the site average and good traffic. Once you've identified these products out of your entire available selection, sprinkle those higher AOS items to be shown front and center or in featured product areas. 
See how your customers are interacting with your website. Look at where they are clicking and what pages they visit most; adjust accordingly, as you want to keep good converting top sellers. 
4. Add accessories or additional services that can be sold with the main item. 
Based on what your site sells, identify accessories or add-ons that can be a good match if sold along with the main products. These can be items added when they're ready to check out on the add-to-cart section, like a cover for a grill. 
5. Add an option for the customer to discuss via a live phone call or meet with a sales representative in-store.
Offer a way for your clients to call in to speak to a sales representative or come into your store (if you have a brick and mortar).
Sales representatives are a great way to understand your customer better. They are a great way to ensure your customer is satisfied, along with being able to give assurance to the customer that what they are buying is what they are getting. Also, it's an excellent opportunity for your representatives to upsell your products and add-ons.
Ways to take action 
I invite you to try one or all of these steps to help increase your AOS. Remember, when you test each of these steps, try to action them separately with their own timeline, so you can track which action performed well or didn't. After identifying which step helped increase AOS, try examining how you can go further with that action. If you see that creating bundles has helped convert sales, I recommend instituting that as a new build rule for all new and existing items.
Ultimately, put yourself in the shoes of the customer. Be thoughtful in what actions you take to increase AOS, don't force a client to do something that feels wrong. A happy, loyal customer is better than one large order.