In digital communication and commerce, imagery and visual merchandising have never been more important. An internal study from Google's Search team found that nearly 40% of users aged 18-25 begin their internet searches on visual platforms, searching for places to go and products to buy on Instagram and TikTok rather than Google. In an industry like retail, the rapid rise of e-commerce has made visual communication more important than ever. Today, most shoppers consider the product image the most crucial trigger in their buying decision—more important than product descriptions, user reviews, or ratings.
Immersive and lifestyle product images increase shopper preference.
According to BigCommerce, 78% of online shoppers want photographs to bring products to life. Lifestyle images of products can engage consumers of different preferences and lifestyles – shoppers can better visualize products in various situations and see precisely how those products will fit into their lives. Other benefits include: conveying richer messaging and storytelling, encouraging inspiration and aspiration, increasing social media engagement, upsells, and ultimately leading to better sales conversion.
For example, a furniture retailer can let shoppers see how a new sofa will look in their living room. The better customers can contextualize the visual image and imagine your products as a part of their lives, the more likely they will buy them.
In visual merchandising, lifestyle images bring an element of aspirational living to your products. These aspirations connect with emotions and can influence purchasing decisions. Shoppers are not only buying things to meet their needs, and they are doing so to fulfill an emotional drive, whether because of boredom, validation, or aspiration. The image of a lounge chair in a country-home setting could satisfy the desire for relaxation, while nice kitchenware in a modern kitchen could mean the commitment to have more home-cooked meals. Without those images, it becomes harder for the shopper to connect your product with their emotions.
CGI and 3D rendering are replacing traditional photography
Of course, the challenge is that creating high-quality images that evoke an emotion (and purchasing behavior) from your shoppers is expensive and logistically complex. But next-gen technologies like computer-generated imagery (CGI) and 3D visualization have advanced so dramatically that today, retailers can use them to build infinitely personalized and dynamic visual experiences for their customers without breaking the bank. They can create vibrant, photorealistic visuals in a few clicks—without even needing a camera.
Think about it. Once you shoot a product, aside from some basic photoshopping capabilities, it's impossible to modify or update the visual without reshooting. Photoshoots are also a logistical nightmare, requiring professional photographers, a team of on-site staff, post-production, and more. All this adds to high costs to fulfill your growing and ever-evolving product-visual needs.
As an HFA Solution Partner, Nfinite makes this possible by helping online retailers create digital models (via CGI technology) of their products, where these 3D models can be easily inserted and seamlessly embedded into lifestyle backgrounds. We offer thousands of templates to cater to different audiences.
With just a few clicks, the same product can be rendered into different scenes to target different audiences. Think of selling the same product to an urban dweller who lives in an industrial loft apartment and a suburbanite living in a 5,000-square-foot farmhouse-style home. That's a game-changer in visual merchandising!
Thousands of Nfinite scenes to bring our products to life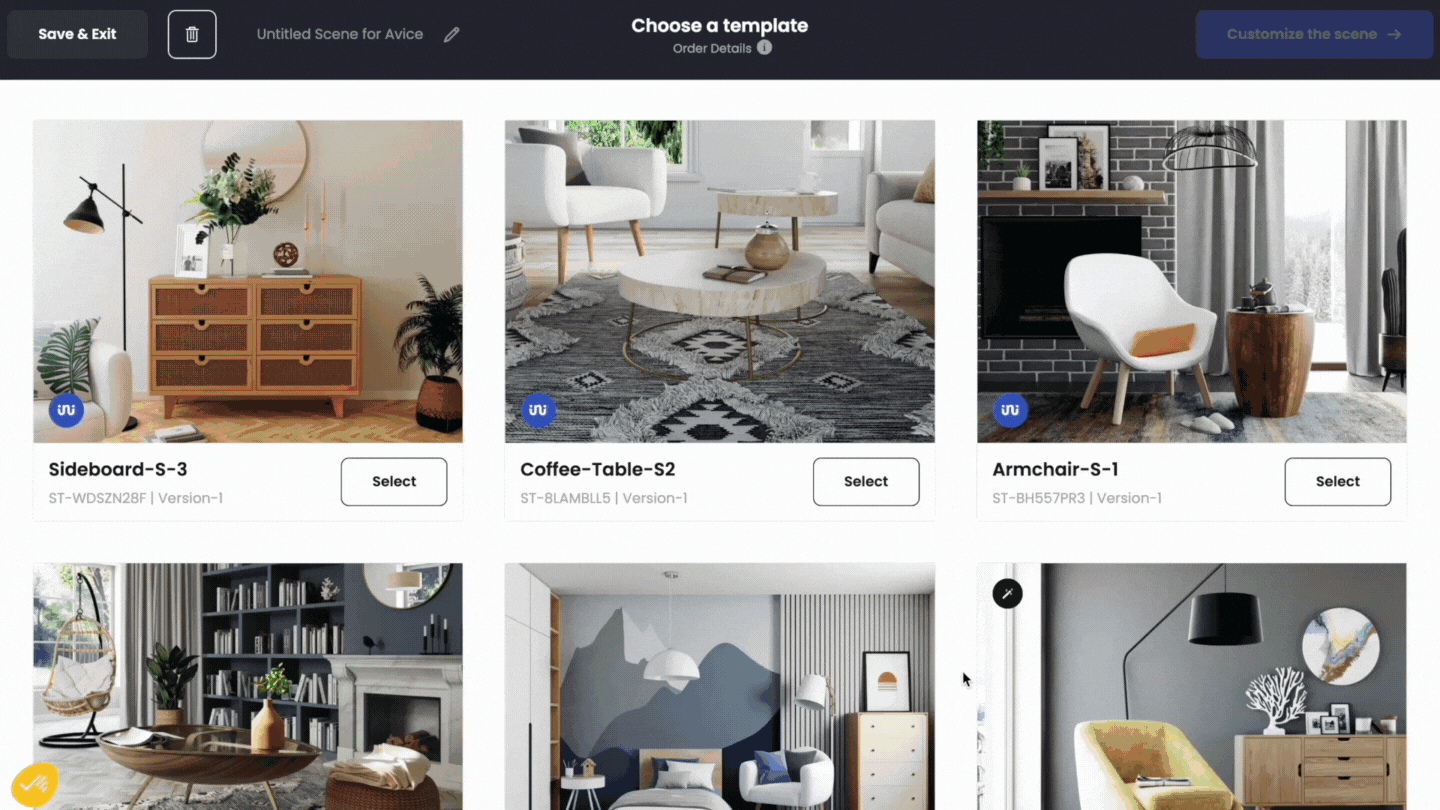 Nfinite has created thousands of existing scene templates for our clients to use, free of charge, from the traditional high-rise apartment to the aspiring mountaintop chalet, which is much more economical and time efficient than conducting physical photoshoots. These scenes are fully customizable and modifiable, where you can change the color of wallpapers or a room, switch paintings and other decorations. In addition, we also provide generic props such as plants, art, and other fixtures to turn your scene into the perfect digital display window. And if clients want to create exclusive and proprietary scenes that match their brand identity, our designers can draw up these unique backgrounds from scratch for a modest fee.
Nfinite helps home & living brands and manufacturers grow.
The Nfinite Platform eliminates the physical, technical, complexity, scaling, and budgetary challenges typically linked to visual production. It has increased web traffic and cart conversation while decreasing digital production costs. Our platform creates product visuals ten times faster than traditional methods, saving up to 93% on the visual merchandising production budget. Our solution also drives up to 10x more traffic and increases add-to-cart conversion rates by 20%.
We've grown substantially over the last few years, signed on many of the world's largest furniture brands, and heavily invested in R&D to ensure we continue innovating on our platform.
Connect with an HFA representative to learn more about how Nfinite can help you.