For the first time since 2019, many of our HFA members came together in Washington for what we affectionately refer to as our DC Fly-In. Each attendee is a member of our Government Relations Action Team (GRAT). This has always been an annual chance to get in front of key leaders to introduce ourselves and the legislative issues critically important to the home furnishings industry.
We had a day and a half packed with meetings. In that time span, we met with US Senators Young, Tillis, Wicker, and Casey, two House members, Manning and Banks, representatives from the American Association of Port Authorities, the US Department of Transportation, President Biden's special assistant for Manufacturing Policy, key staff from both the Senate Small Business Committee and Senate Finance Committee, as well as the chairman of the Federal Maritime Commission (FMC).
Topics ranged from the STURDY Act, which focuses on more stringent standards surrounding tip-over risk and children's clothing units, to tax laws. We also discussed the broken supply chain. In particular, the Ocean Shipping Reform Act that is making its way through Congress. It would give the FMC and other departments resources to go after ocean shippers and others who are overcharging to transport the goods that manufacturers create and our retailers want to sell. We all know what ocean shipping rates have done to furniture prices. They are keenly responsible for massive hikes over the last 18 months in the price of everything from case goods to upholstery.
I am often asked, "do you think our contact with members of Congress or the Administration matter or makes a difference?" I get the skepticism. We are but one sector of the vast US retail landscape, and we made a handful of connections over a day and a half. How can that add up to much?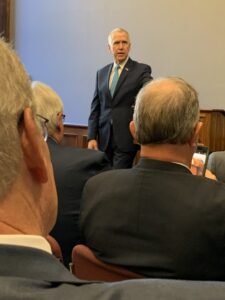 You have heard me say before that advocacy efforts require what I like to call a steady drumbeat. A consistent message must be sent to decision-makers to make our stance on particular legislative issues clear. What the Fly-In proved is the best people to deliver that message are our members. I enjoyed watching as one of our members would speak up and ask a question or give some context to a discussion and seeing how our guests would focus on those pieces of perspective. They listened and then asked follow-up questions.
I'm not going to tell you that we turned the tide on any legislative issues in those few minutes. However, I know we are becoming more and more of a resource for decision-makers and are providing them with a clear understanding of the impacts of their actions. It felt good. We need to do more of this and not just once a year. We will bang the drum until they hear us.