Furniture & Floors North in Houlton, Maine, secured a Paycheck Protection Program loan and has weathered the coronavirus crisis pretty well.
But when Kelley Fitzpatrick received a call from her congressman's office asking about a proposed new federal lending program, she didn't think only about her own business.
"It's probably not something we would take advantage of, but I could see where it would be beneficial for others," the general manager of her family-owned furniture store told the staff member for U.S. Rep. Jared Golden.
Golden, a Democrat who serves on the House Small Business Committee, wanted to hear from employers in Maine's Second Congressional District, so his office contacted the Home Furnishings Association. Golden was aware that the HFA supports the RESTART Act, introduced in the Senate by Sen. Todd Young (R-Ind.) and Sen. Michael Bennet (D-Colo.). Golden was thinking of sponsoring a similar measure in the House but wanted feedback first. The HFA put Golden's staff in touch with several furniture retailers in his district.
Kathy Harvey, the owner of Furniture Mattresses & More in Bangor, spoke with an aide to Golden and "gave him good feedback in favor of the bill," she said.
Not everyone Golden's office called was in favor of additional government assistance. Glen Wilbur, who owns Glen Wilbur Family Furniture in Cherryfield, said he's doubled his sales in the last few months.
"This is by far the best I've ever done," he said. He stayed open to sell essential items – mostly appliances and lift chairs. "I sold three appliances and a lift chair this morning," he said on a recent weekday.
Many businesses may need help later
Nevertheless, Golden heard enough expressions of support to conclude that many businesses in his district and across the country may need more help – if not now, then perhaps later, once current recovery programs end. He just wanted to find a Republican co-sponsor to introduce the RESTART Act with him. Rep. Mike Kelly (R-Pa.) stepped up.
Kelly also was familiar with the HFA's views because he'd spoken directly with Matt Schultz, the leader of HFA's Government Relations Action Team. Schultz is president of John V Schultz Furniture in Erie, Pa. – within Kelly's district. In a call that included Chris Andresen, HFA's representative in Washington, D.C., and Doug Clark, government relations liaison for the HFA, Schultz presented HFA's legislative priorities – including the RESTART Act. Kelly, who overcame a case of Covid-19 and now donates plasma to help treat other patients, was very receptive.
RESTART stands for Reviving the Economy Sustainably Toward a Recovery in Twenty-twenty. It would provide flexible, targeted relief to help businesses survive a more prolonged economic downturn. It would offer loans for up to a year and grant partial loan forgiveness for a broad array of expenses, including payroll, mortgage interest, rent, utilities, PPE costs and payments to independent contractors.
"Most of the small businesses my team and I have been working with during the Covid-19 crisis have now either exhausted their PPP funds or never applied to the program because it didn't quite work for them," Golden said in a news release. "Small businesses are still barely hanging on. Congress must confront the fact that our current recession isn't going to magically disappear, and take action. The PPP was successful, but it was an emergency measure. We must address its flaws and learn from it to help more businesses and save more jobs going forward.
"The bipartisan legislation I'm introducing today with Republican Congressman Mike Kelly builds on the PPP to create the RESTART program," Golden continued. "RESTART will provide the hardest-hit small businesses with more flexible relief they can use on things like rent, contractor payments and PPE, and the forgivable loans will last up to a year. Based on the feedback I've been receiving directly from Maine small businesses, the RESTART program is the best path forward to keep local firms above water and keep Mainers employed."
Matt Schultz thanks Rep. Mike Kelly
"Building on the success of the PPP program, the RESTART Act will help the hardest-hit small businesses and nonprofits keep their doors open and ensure more Americans can get back to work," Kelly added. "Providing greater flexibility and longer-term loans will assist more job creators survive this pandemic and resume normal business operations.  It's a win-win for our economy, U.S. small businesses and American workers."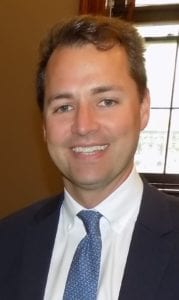 Schultz praised Kelly for his action.
"We had a very productive conversation with Congressman Kelly and highlighted HFA's legislative priorities, including the RESTART Act," Schultz said. "Not every furniture retailer will need more help from the federal government, but we want to make sure there will be resources available for businesses that might take many months or even years to fully recover from the effects of the virus. We appreciate this initiative by Representatives Kelly and Golden, as well as Senators Young and Bennet, and we urge Congress to enact it."
HFA's Government Relations Action Team also spoke with Sen. Young about his RESTART Act and other priorities.
[HFA's Covid-19 Recovery Resources]
The RESTART Act details
In more detail, the RESTART Act would:
Offer partially forgivable loans to small businesses that had a greater than 25 percent drop in their total income compared to the period before the coronavirus pandemic.
Set the loan period between six months and one year depending on severity of income losses.
Allow loan forgiveness for a wider range of expenses, including:

Payroll costs (not forgivable for businesses with more than 500 employees).
Mortgage interest, rent and utility payments.
Interest on existing debts.
Personal protective equipment (PPE).

For loan amounts that are not forgiven, defer principal payments for up to four years.
Allow applicants for PPP to submit a modified PPP application to apply for RESTART.
Require publicly traded companies to repay the full loan amount.
And report on identities and any loan forgiveness amounts of all recipients of the RESTART loans that have 50 or more employees.