Consumers have an abundance of choice when it comes to e-commerce. Countless brands and retailers vie for consumer attention and share of wallet. So what are the deciding factors that turn shoppers into customers? Last year, Nfinite confirmed in a proprietary data report that product imagery is high on the list and shows how product visuals influence sales.
 Most consumers (88%) said product imagery is essential when shopping online. But it's important to understand how these expectations are evolving. Spoiler alert: expectations are rising rapidly.
Consumer imagery expectations and why they matter
Consumers have high expectations for product imagery, but what does that mean in practice? They seek accurate images to inform them about the product and increase their confidence in purchasing. When these elements are present, they are more likely to make purchases — and stick around for the long haul. When these elements are lacking, brands and retailers can't expect consumers to convert.
Consumers want accurate imagery
Returns are a rising problem in retail. One culprit? Inaccurate product imagery. 83% of consumers will return a product if the image online doesn't match the product they receive, up from 75% last year. Tolerance for misleading images is dwindling. And the effect lasts longer than a single return — customer lifetime value is impacted significantly. 72% of consumers are less likely to shop on an e-commerce site again when this happens.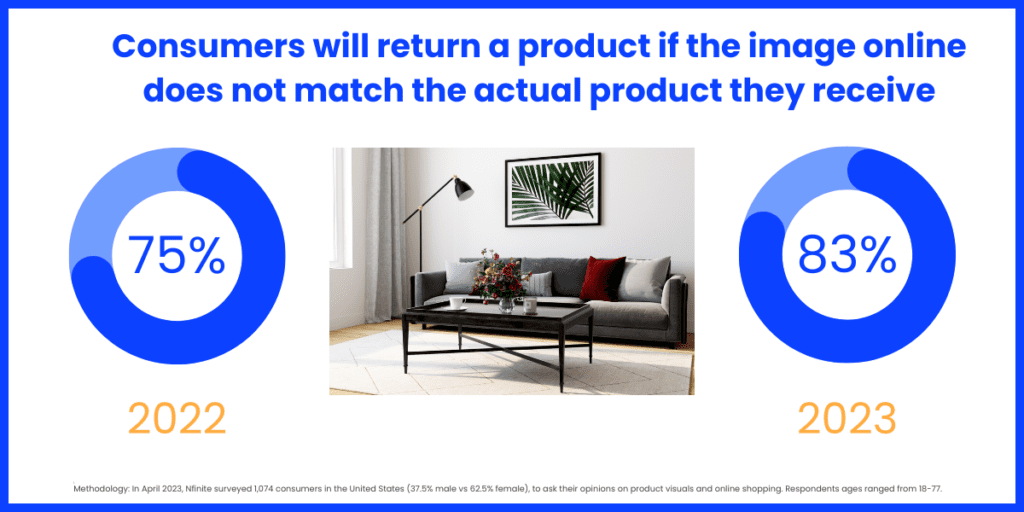 Consumers want informative imagery
65% of consumers are more likely to purchase an item if they can see it from all angles, and 56% are less likely to buy a piece of furniture if no or limited imagery is available for the specific color or finish they want. Brands, retailers, and suppliers that provide these angles and variations are helping to replace the in-store experience of touching, feeling, and turning items around to understand every aspect of them, holistically educating them about a potential purchase.
Consumers want confidence-inspiring imagery
69% of consumers say a lifestyle image is more likely to capture their attention when shopping online than a packshot — up from 60% last year. A lifestyle image is a product displayed in a scene, like a couch shown in a fully decorated living room, and they're becoming table stakes for a reason. Placing a product in context gives consumers a sense of how they might experience it in their own space, inspiring purchasing confidence.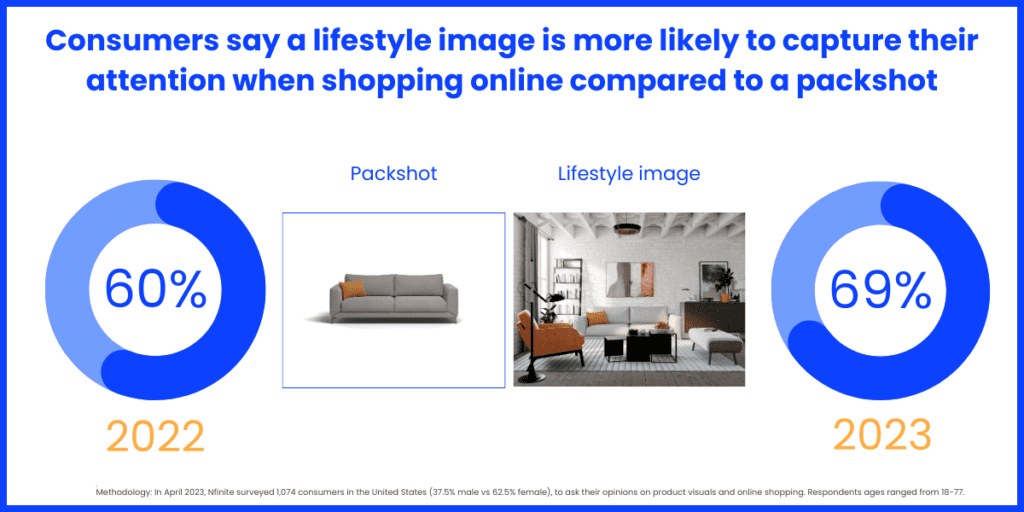 The end game
As expectations continue to climb, consumers will reward those who meet them, and as we see in the data, product visuals influence sales. Retailers who provide what consumers are looking for will find success in converting them into customers.
 How can they meet these expectations? Producing this content can be challenging, but it doesn't have to be.  Computer-generated imagery (CGI) enables the rapid production of photorealistic images at scale. With one 3D model, retailers can create packshots from every angle, lifestyle images in various scenes, 360°-spins, and other immersive experiences like augmented reality.
 These high-quality outputs can be produced 63% faster with CGI than with photoshoots, yielding increased engagement and boosted sales. "With CGI, our conversion rates and retention have increased significantly," notes Julie Colin, Brand Content Manager of BUT, a large European home furnishings retailer.