The holy grail of retail – everyone is looking for the game changer for their customer experience. The question is: How can you let your guests experience products that aren't physically present? Before 2020, virtual reality headsets created a lot of buzz. Now, even with tons of sanitizer, they're an unthinkable experience. Consumers shifted to exploring products online, with Augmented Reality (AR) at the core of the work-from-home economy. But what about brick & mortar stores?
Like other big-ticket items, furniture is still predominantly bought in showrooms. Brick & mortar stores benefit from a well-built website. Traffic increases, and consumers are better informed when setting foot in your showroom. Google estimates that 83% of shoppers visit a retailer's website before visiting the physical location. In the home furnishings space, many agree the number is probably much higher. So, what are your guests expecting?
Game Changer #1: The Knowledgeable RSA
"I'm just browsing" is consumer-speak for "I don't trust the associate." In many cases, consumers are better informed than sales associates. After all, they have spent hours researching models, series, and collections and have crawled the web when cross-shopping.
So, the first game-changer is the smart RSA (retail sales associate). Using tablet apps, they should access inventory quantities, product catalogs, manufacturer inventory and lead times, and accurate pricing. Of course, everything is in real-time. And ideally, in sync with what's being shown on the website. There's software that automates this process – any data syndication platform worth it's salt can do it.
Game-Changer #2: The Positive Price Surprise
Everybody loves unexpected good news. Many consumers are unaware that brands protect products and retailers by enforcing MAP – minimum advertised price. MAP levels the playing field by not allowing retailers to go below a certain amount when posting the product online. Brick & mortar stores usually don't need to worry about MAP. They can offer additional discounts or bundle items to muddy up price points. Teach your guests that they get the best possible deal when visiting your store.
While adhering to MAP policy on your website is crucial, you can be much more flexible in-store. Give your RSAs tools to identify online MAP pricing and allow them to discount for in-store purchases. Ideally, you find a data syndication platform that automatically enforces MAP for your e-commerce site.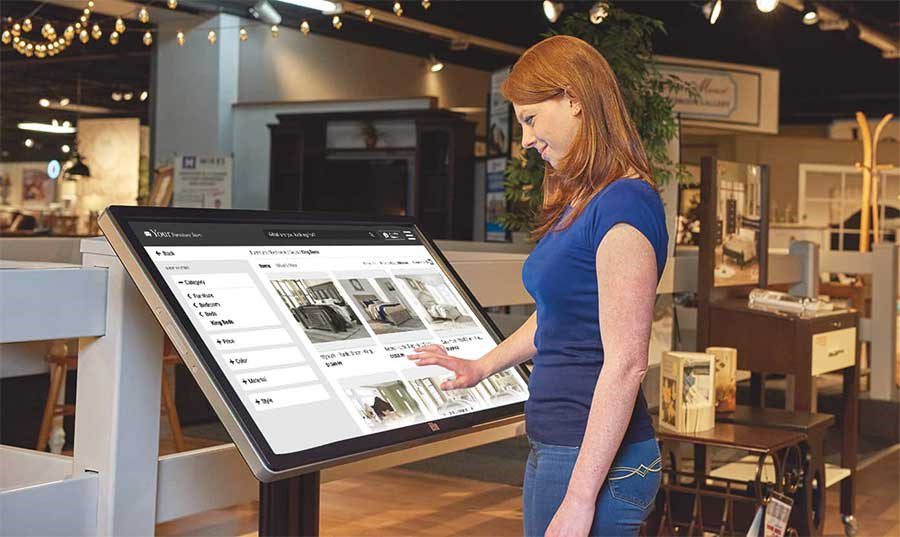 Game-Changer #3: Self-Service when Desired
Your guests want to be in control of the buying experience. They don't like being sold; they want to buy. "I'm just browsing" can be countered by introducing them to your endless aisle kiosks. If they can't find what they're looking for on the floor, encourage them to browse the extended aisle. Let them explore on their own and build a cart. Maybe they even share items with themselves or decision-makers using built-in sharing tools.
Self-Service can not – and should not – replace human interaction. Furniture retail is still very much a consultative buying experience. Big ticket items have a lot more to do with emotions than rationale. The purpose of self-service is to automate and streamline the aspects that only slow down a sales process. We have collected the Top 5 Must-Haves for Self-Service kiosk software to have a starting point.
Game-Changer #4: Low Sales Pressure – While Collecting Follow-Up Info
I don't know anybody that enjoys over-eager salespeople breathing down their necks. In a predominantly commission-only industry, sales associates can sometimes behave like vultures. They're lurking behind the adjacent vignette, waiting for the consumer to drop dead.
With a low-pressure approach, even hesitant buyers are more willing to open up and share their actual needs. Retailers can get follow-up contact information by texting them (or their loved ones) product recommendations. And with the correct integration, these text messages become the perfect gateway to a remote selling session. Conversational marketing – especially via text message – is already responsible for thousands of $$ in sales.
Conclusion
There is no single "game changer" for customer experience. Minor improvements and consistency both have a lasting impact. And while good customer experience is very subjective, there are a few universal truths. Eliminate inefficiencies and double down on what leads to happy customers. They will share their happiness – with valuable online reviews or by telling family and friends. Learn more about HFA's Solution Partner Wondersign and how they support furniture retailers.