Imagine going back to 1990 when the internet was emerging. Furniture retailers relied heavily on newspapers, radio, and TV. Everyone was reading newspapers, watching TV, and listening to local radio to learn about what was happening in the world — and furniture trends, offers, and sales. Shopping for furniture was different back then. Customers spent hours driving between showrooms, trying to imagine how pieces would fit their homes and reflect their style. It was a time-consuming process that had to be done in person or possibly through a printed catalog.
Customer expectations have changed, and retailers must keep furniture customers engaged throughout the buying process. Finally, the tools available to furniture retailers are catching up. We will explain how tools like the 3D Cloud Room Scanner and 3D Cloud Room Planner will make buying furniture faster, easier, more enjoyable for the customer, and more profitable for you, the furniture retailer.
In furniture shopping, the frustration is mutual
Today, consumers can access endless pricing information and options through their smartphones. Showrooming has been a sore spot for retailers. You know, when customers visit stores for inspiration but price check and purchase online, often at lower prices. This challenge affects furniture retailers who invest in immersive showrooms or free design services but need help to keep customers engaged during the lengthy buying process.
Consumers are also frustrated. They want to check "buy a new sofa" off their lists but can feel overwhelmed by choices and lack time for in-person shopping. Even those with vivid imaginations struggle to visualize furniture based on 2D pictures or floor samples alone. They need accurate measurements and can make mistakes, resulting in ill-fitting furniture and costly returns.
Then there's the waiting. Customers seek seamless and efficient shopping experiences without endless delays and appointments. This frustration is universal – no one enjoys waiting! To address this issue, we embarked on a mission to simplify buying large-scale, semi-custom products like sofas and beds.
3D room scanning and visualization tools are invaluable, instilling confidence and aiding communication with loved ones and design professionals while providing a sense of psychological ownership and constant progress through the buying process.
Keeping customers engaged
 How can retailers overcome the challenge of keeping furniture customers engaged? The answer lies in embracing innovative technologies like the 3D Cloud Room Scanner. By offering customers an interactive and immersive experience, retailers can bridge the gap between physical showrooms and online shopping. With the ability to capture precise floorplan measurements, design 3D projects, generate product lists, and facilitate checkout, the 3D Cloud Room Scanner minimizes distractions, deters showrooming, and keeps customers actively involved.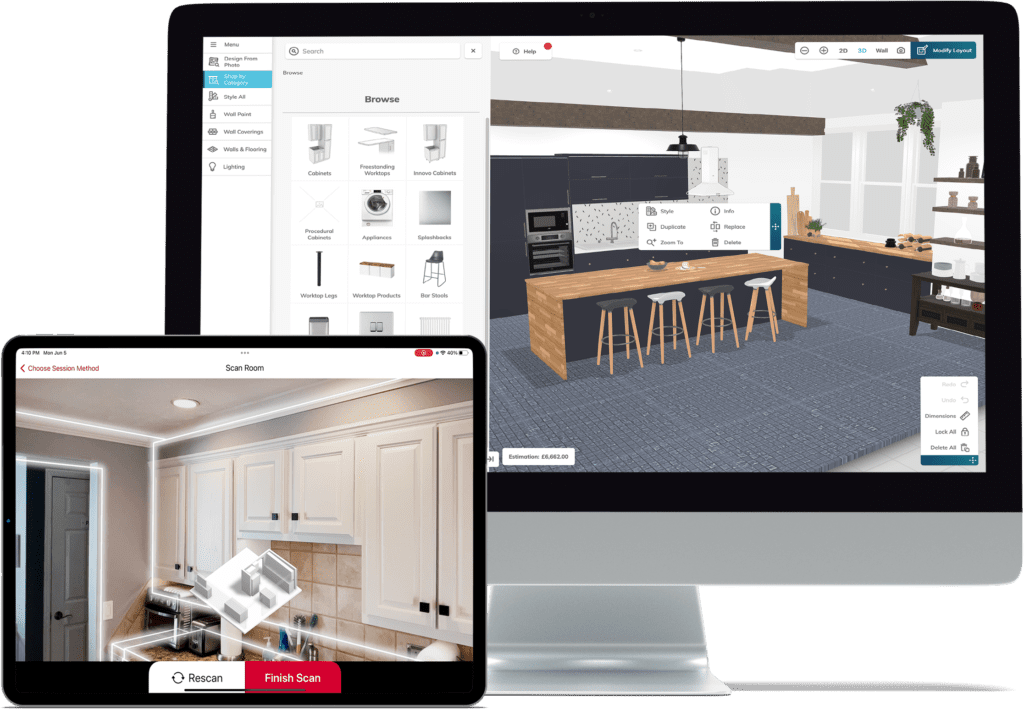 Retailers can enhance engagement by providing personalized recommendations based on customer preferences and past purchases. By leveraging customer data and advanced algorithms, retailers can curate a tailored shopping experience that helps customers navigate options, making decision-making more manageable and enjoyable.
The wait is over. Say hello to a future where informed decisions are effortless. Embrace this streamlined version of the customer experience to keep shoppers engaged throughout the buying process. By leveraging immersive technologies, personalized recommendations, and seamless integration of physical showrooms and online platforms, it's possible to create an environment where customers feel empowered, inspired, and confident in their choices.
The retail furniture buying experience has evolved significantly since 1990. With the introduction of the 3D Cloud Room Scanner, we are witnessing a transformative shift in how customers visualize and purchase furniture. We look forward to changing the industry with you.
If you'd like to see what it's all about, request an invitation to join the 3D Room Scanner early access program.