The home furnishings market is changing. What was once an in-person-only experience of feeling and touching fabrics is now done online for many people. The size of the global e-commerce furniture store market is projected to cross $40 billion by 2030.
Shoppers are now driven more than ever by convenience. For some industries, that drive quickly flipped the balance from traditional retail to online shopping. Furniture may have lagged, but with some technological advances (like augmented reality experiences) coming to market, the trend is changing.
If you're an e-commerce store selling furniture, it's time to get creative in driving shopper traffic online. Here are some tips.
Step 1. Embrace technology
You will never replace the experience of sitting in a chair before you buy it or stretching out on a king-size frame before you commit. But, with the right technology, you can start to offer things that weren't possible in the past.
Bring it home before you buy it
Augmented reality (AR) allows shoppers to see what an item would look like in their home before they purchase it. With a few clicks, customers can virtually place furniture in their living room or bedroom and see how it fits into the existing space.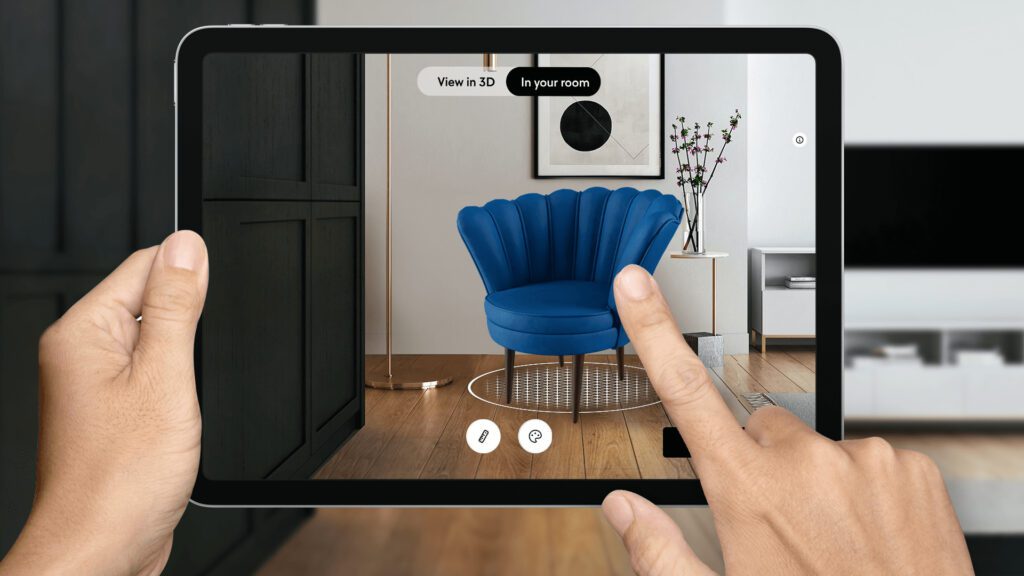 You can quickly swap out colors, textures, and styles or swipe through an entire catalog to find that perfect bedside lamp, all without visiting a store.
For e-commerce businesses, the results of implementing 3D AR in their marketing campaigns are precise. According to Shopify research, adding 3D content increases conversions by 94% on average. Because augmented reality removes the guesswork from the purchase cycle by allowing the shopper to get a good look and feel of the product by placing it in their environment.
AR also reduces the return rate, which is a considerable concern for many e-commerce brands. Augmented reality can be a test drive for a product, allowing customers to feel more confident in their purchase and avoid the dreaded buyer's remorse.
Invigorate your brand
The benefits of AR continue beyond there. It also creates a next-gen brand association. A company that is ahead of the curve in technology adoption has a higher likelihood of
 being viewed as an innovative leader with GenZ and Millennial shoppers.  People who have grown up with technology respect brands that use it to create better experiences. 
Create a buzz
One of the best parts about using AR tools for e-commerce is that it allows you to
create buzz around your brand. Encourage screenshots and videos of people trying out the AR feature in their homes on social media, or even better, have customers submit content about how they used it for a chance to be featured on your page or website.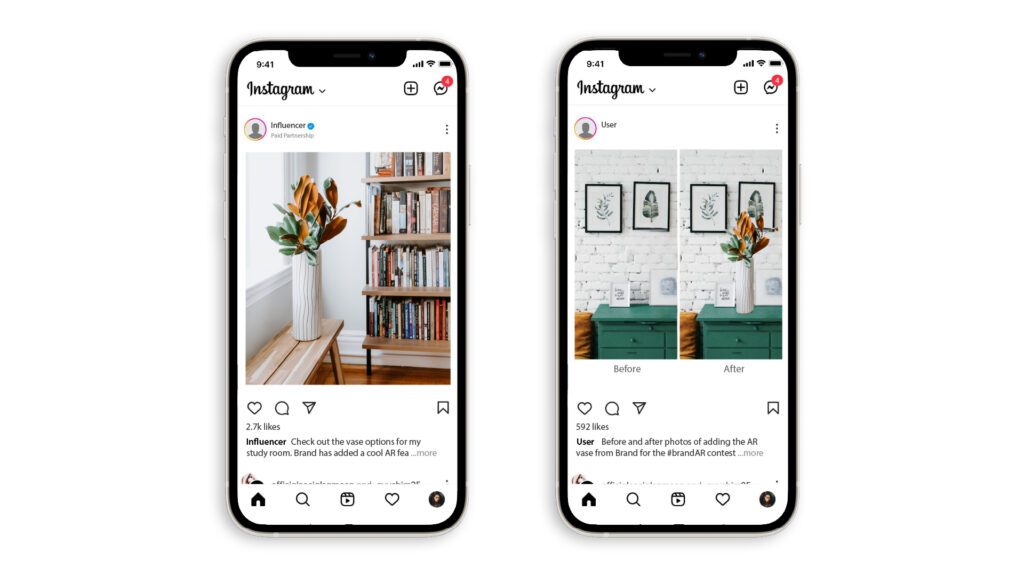 Suddenly, it isn't an advertisement anymore. It's a platform for real people to tell their stories and share the unique ways they've used your products to make their homes better. Even paid advertising can be improved. Google swirl ads, which allow you to interact with the product before you even click it, can improve top-of-funnel results for campaigns on platforms like Google and Facebook. They experience a 50% increase in click-through rate (CTR) compared to 2D video.
Step 2. Focus on organic traffic
Learning how to increase organic traffic on e-commerce websites is like finding the holy grail. It can result in more website visitors, conversions, and, ultimately, revenue. But it takes work.
Offer value
Organic traffic is all about creating content that offers value to the customer. It's not just about selling products. For example, you can create blog posts or videos discussing furniture trends and
design tips for home decorating with your product in mind. This gives customers a reason to visit your website and learn more about what you offer. 
SEO and social
 It would help if you also focused on SEO optimization of your website and optimizing content for social media channels like Instagram, Pinterest, and Facebook. These are great ways to reach potential customers interested in buying your furniture but have yet to learn it!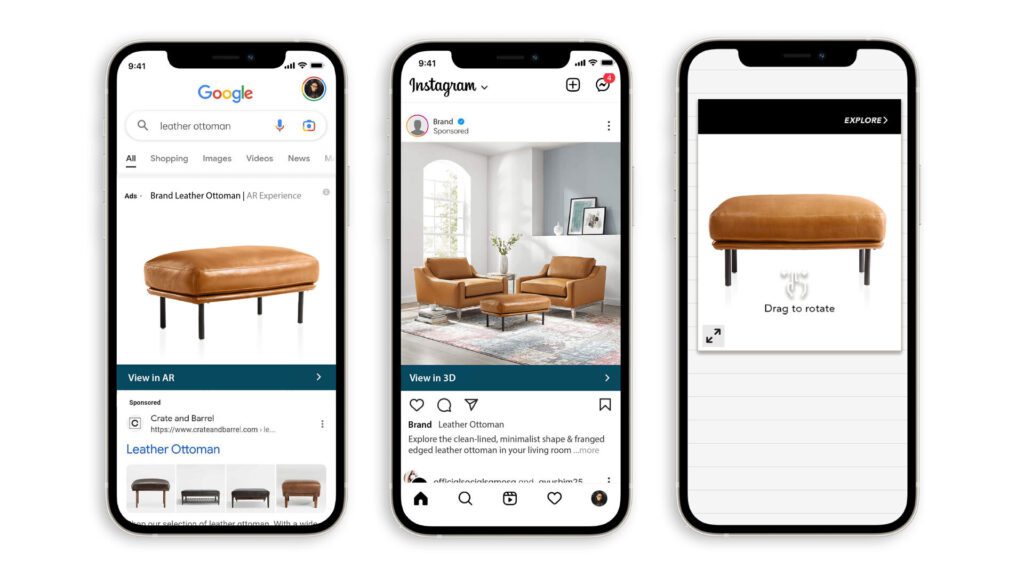 It's not all about forcing ads in front of their faces. It's about creating a relationship between you and your customers through content that is valuable to them.
Step 3. Retargeting
Customers that visit your website but don't buy anything shouldn't be forgotten. Retargeting is an effective way to reconnect and draw customers back. These ads can be seen all over the internet, from social media sites like Facebook and Instagram to Google Ads. Retargeting works because it allows you to display ads tailored specifically to a user's interests. For example, if someone was looking at dining tables on your site but didn't buy anything, you could show them tailored ads for chairs or table settings—items they might need to complete the purchase. If you have already collected customer data, you can tailor ads to show items that match their style or interests.
When combined with technology like 3D AR, retargeting can draw customers back in and help drive conversion rates through the roof.
Step 4. Include influencers
The word "influencer" has started to get a bad rap. It doesn't necessarily mean the Instagram model is famous only because of their looks. Influencers are cultural and community leaders that can drive traffic simply by embracing a product. Do you design computer chairs? Reach out to some top video game streamers. Sell dining tables? Partner with YouTube cooking shows that will display your product. There are countless ways to involve influencers without creating blatant advertisements and customers will be exposed to your items without even knowing. Given that more than half of users make purchase decisions on social media, your influencer marketing efforts offer a vast opportunity.
Bonus tip: Don't do it alone!
It can be challenging to know where to start. You only have a limited amount of time, and there are so many ways you can try to increase website traffic organically. Some advice? Don't try to do it all yourself. Many (many) services can help you optimize your email campaigns, improve your CTR, or increase your presence on social media. Embrace their expertise and let them take some pressure off your shoulders. With some help, you'll be able to focus more on the parts of your business that you love – like designing unique products! Take Avataar for instance. The end-to-end platform can build DIY 3D model creation and add augmented reality to your online store, no matter how big your online store becomes. They can also help with 3D and AR marketing, so your campaigns stand out among social advertisements.
Making sure your traffic is valuable
One thing to remember is that not all traffic carries the same value. If your bounce rate – the number of customers that visit then quickly leave your store – is high, it doesn't matter how many new visitors you bring in. BigCommerce suggests that a bounce rate between 30-55% is acceptable, but that the number can vary significantly based on product category, pricing tier, and several other factors. 
Here are some simple tips to lower your bounce rate and ensure that once you increase website traffic organically, you'll be able to keep conversion rates high.
Personalize the experience: Give them a little something special. You don't want your store to look just like everything else. Let them see the item in their own space, show them why it fits their needs, and (if possible) offer a way to try it out before buying.
Be transparent: Don't hide the extra costs! Buyers are

abandoning their carts

just as often as ever, and one of the main reasons is shipping prices that they didn't expect.

Optimize the checkout process: Another big reason for abandonment is that the checkout is too complicated. Streamline it and make the sale before they change their mind. 
With just a few tweaks, your store will be keeping customers online longer and spending more than ever.