A shift in retail is moving faster than any other trend we have witnessed that customer interest is moving from products to relationships. This shift is great news for retailers if they know how to adapt to their customer wants. Let's look at a few numbers:

These numbers are staggering because we were watching retail move full steam toward online only. Now we see the reverse. I have always believed that retail is a human interaction that solves basic emotional needs: connection and validation.
With this in mind, it begs the question. Is your furniture store equipped to deliver these personal experiences and build long-term customer relationships? Are your sales associates enabled to do this at scale?
Let's talk about Sales Associates
More than billboard, online, or radio ads, they are the face of the business and are one of the most important roles you will hire over the next five to ten years.
And given the need for customers to connect, the sales associate will represent your business in that connection. Sales associates (more than products) are why clients will continue to return to your store, increasing every customer's lifetime value.
More than any other role, your sales associates are the primary catalyst to:
Deliver personalized service from the store
Tailor product recommendations
Engage in one-on-one communication
Deliver relevant and timely offers
This process is what we call clienteling.
What is Clienteling?
Clienteling has become a bit of a buzzword recently. Retail sales associates use Clienteling to build long-term relationships with key customers.
Said another way, it's the secret sauce that converts first-time customers into lifelong clients. There's a good chance your sales associates are doing some of this already to varying degrees of success.
But why is it not happening regularly or with every sales associate? Some common reasons:
Reason 1: They don't know how
Too many sales associates won't use clienteling because they don't know how. They've never been taught what clienteling is and what is involved. Often this isn't their fault, but the store manager or sales manager has neglected training sales associates on this critical way to build customer relationships.
If sales associates are to do well, it's the leader's job to give them every tool, training, and encouragement they need to succeed.
Reason 2: It's complicated
For many furniture stores and their sales associates, clienteling is a manual process. Sales leaders and store owners don't want to invest the time in technology that makes the process easier and more scalable. A yellow notepad and folder stuffed with notes work just fine for them. Until it doesn't.
Reason 3: They're paranoid
Unsurprisingly, sales associates can be a bit protective of the relationships they develop. They want to keep the relationships personal and private. It's not that they are greedy or self-interested; they just want to be successful.
The Real Reason
While these reasons are all valid, there is a more common reason sales associates won't clientele. They're lazy. It's easy to get a paycheck, grab a few sales that wander in the door, and be done for the day. Some associates are happy with the minimum effort in life. Those people shouldn't be working for you.
Enabling Success with Clienteling
Here I offer three ways to help your sales associates start driving more business. Full disclosure, much of what I'm going to tell you is made more accessible with a tool like Clientbook. So, if you're a customer, you'll know the success. If you're not, that's ok. These tips can still help you.
Remove Friction and Make it Easy
The current state of retail is not conducive to a sales associate's success. For example, the current state of retail is a bit of a mess when it comes to customer data. Sales associates have data in multiple silos (notebooks, spreadsheets, 3rd party messaging apps, point of sales systems, and more), making it difficult, if not impossible, to effectively clientele.
Consolidating all the customer data and bringing important information into one place is a good recipe for fewer sales associate frustration. This doesn't mean you need one piece of technology to do it all, but these systems must talk and share information. An excellent start is identifying all the areas where your client information currently resides.
Knowing whom to send follow-up reminders to shouldn't take all day. Having client information in one place will certainly help, but that doesn't mean you'll know when to reach out and to whom.
The right clienteling tool will enable sales associates to never miss a customer follow-up by automatically creating task reminders based on staff and store best practices. Putting everyday tasks like sending reviews and payment links or creating wish lists right at the fingertips of your sales associates will make life so much easier for them.
Automate Time-Consuming and Difficult Tasks
For most furniture retailers, clienteling is not performed because it's too manual, too time-consuming, and impossible to scale when you have thousands of clients. That's a lot of personal notes, texts, emails to write, anniversaries, service dates, product updates, and even names to remember.
So how do you automate personalized service while keeping it personal?
You don't automate the whole thing. You enter critical information, set key reminders, and automate tasks that lead to personal interaction. Most importantly, you take the collected data and use it to create a cadence (or sequence) for the post-sales journey. Hitting clients with the right message at the right time will repeatedly bring them back to the store while freeing up the sales associate from the manual "grunt work," allowing them to do what they do best—sell.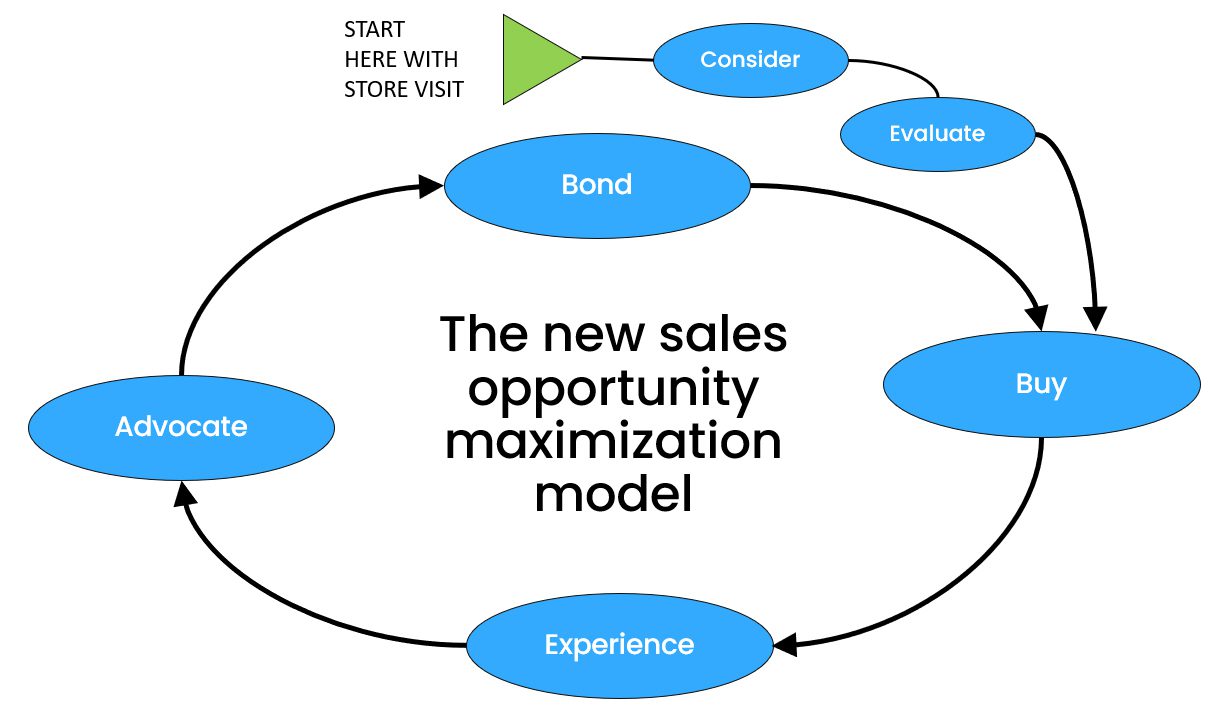 Bonus Tip: Set and Track Goals
You can't change or fix what you can't measure. All of those client interactions and engagements create a powerful history. They should give you actionable data, enabling you to make better decisions when buying products and planning sales events. Having this information easily accessible in one place saves you many headaches and allows you to set trackable goals.
Your store will only be as successful as your sales associates. Enabling them for success by helping them learn to actively clientele is critical. After all, who wouldn't want and sales associate who:
Looks for every opportunity vs. waiting for the business to come to them
Sells outside the store
Meets the customer where they are
Uses technology the customer wants to use
Knows every necessary detail about their clients
To learn more about how Clientbook can help your store and sales associates build long-term relationships with clients, visit clientbook.com/demo and schedule a personalized demo.