In the competitive furniture retail world, capturing customers' attention and delivering exceptional shopping experiences are critical to success. Traditional merchandising approaches have limitations and often leave retailers needing help to engage customers and boost sales. Thanks to technology, furniture retailers can overcome many challenges and modernize their stores in line with customer expectations. This article will show you how 3D and augmented reality (AR) is a revolutionary technology that can help transform retail merchandising into immersive, customer-centric environments.
Common challenges faced by home and furniture retailers today:
Limited Physical Space: Many retailers need more showroom space, which restricts their ability to display various furniture options. As a result, customers may need help finding the desired styles or variations, leading to missed sales opportunities.

Lack of Visualization: Customers often need help visualizing how furniture pieces will fit into their homes. This uncertainty makes them hesitant to purchase, resulting in abandoned carts and decreased conversion rates.

High Returns and Dissatisfied Customers: Without the ability to physically interact with furniture before purchasing, customers may receive products that don't meet their expectations. Lack of visualization leads to higher return rates, increased operational costs, and dissatisfied customers.
By integrating 3D and AR technologies into the store, furniture retailers can address these pain points and create compelling solutions for their customers.
Expanding Product Offerings: 
Relying only on physical store space limits how many products can be displayed and accessible to customers at anytime. Keeping in mind that the average shopper makes three unplanned purchases in four out of 10 stores they visit, displaying products in AR is a great way to engage shoppers and drive awareness.
Utilizing the store's air space by displaying products in AR increases the number of products that customers can see and reduces the costs of holding inventory. With AR, retailers can showcase an extensive virtual catalog, enabling customers to explore more furniture options beyond the physical store. AR expands the choices available and increases the likelihood of finding the perfect piece.
Visualizing in Real Spaces: One of the biggest challenges in buying furniture online is the customer's inability to evaluate the look and feel of the furniture in their home. By leveraging AR, customers can visualize furniture pieces in their homes through smartphones or tablets. This immersive experience helps them make informed decisions, ensuring the furniture complements their existing decor and fits seamlessly into their living spaces.
Customization and Personalization: Not just visualization, 3D and AR technologies empower customers to customize furniture pieces by selecting colors, materials, and configurations. This level of personalization enhances the shopping experience, making customers feel involved in the design process and increasing their satisfaction.
Reducing Returns and Enhancing Satisfaction: With virtual previews and customization options, customers clearly understand the product's appearance and functionality. These visual reduces the chances of disappointment upon delivery, resulting in fewer returns, improved customer satisfaction, and positive word-of-mouth referrals. A Shopify study revealed that retailers who integrated AR experiences saw a 94% increase in conversion rates. Additionally, 40% of shoppers are more likely to revisit a store that offers augmented reality interactions.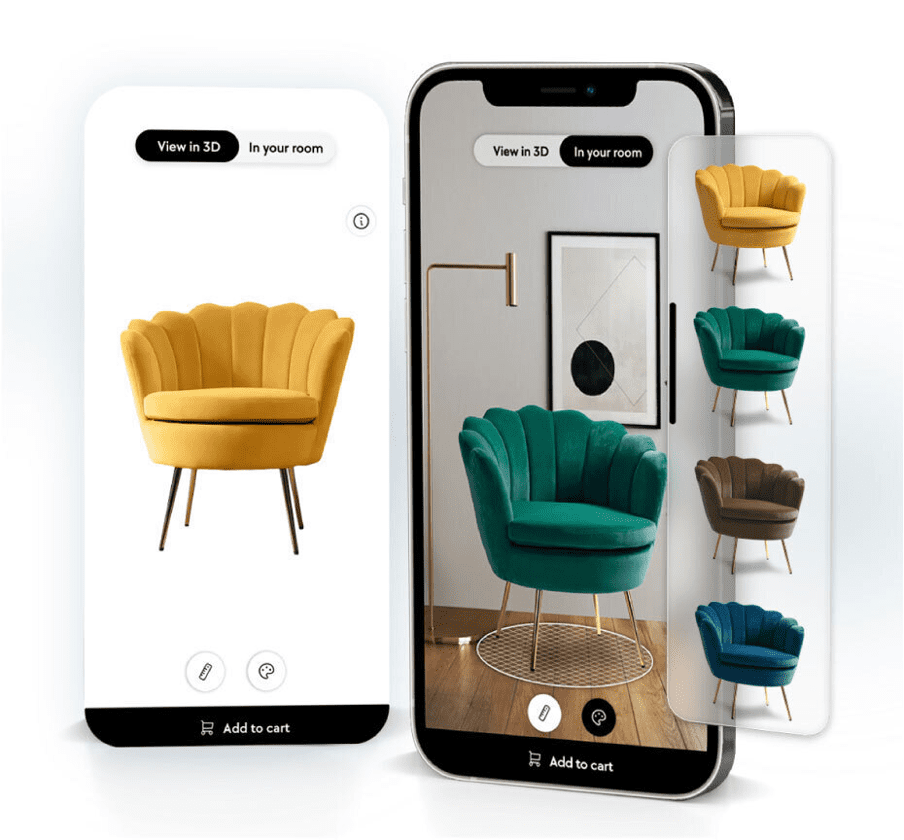 Driving Footfall and Engagement: Retailers can leverage the interactive and immersive nature of 3D and AR experiences to attract and engage customers. By offering unique virtual experiences and gamified interactions, retailers can create a buzz around their brand and entice customers to visit physical stores for an extraordinary shopping adventure. 
Store Navigation made easy: Navigating a sizeable retail store can often be overwhelming for customers. Fortunately, with the integration of AR wayfinding and navigation features, retailers can alleviate this challenge and create a seamless shopping journey. The impact of augmented reality overlays on store traffic has been significant. According to a Deloitte study, 70% of consumers prefer stores that offer AR navigation to help them find products.
Retailers can provide real-time directions within their stores by implementing augmented reality overlays. These overlays highlight product locations, helping customers easily find what they want. Moreover, AR can offer personalized recommendations based on the customer's preferences, enhancing their shopping experience and reducing the time spent searching for items.
Retailers can go beyond overlays and explore the full potential of augmented reality (AR) technology to transform retail merchandising and revolutionize the shopping experience for their customers. With AR, they can create captivating holograms that bring products to life right before their customers' eyes. This innovative use of holograms elevates the in-store experience, immerses customers in a dynamic environment, and leaves a lasting impression.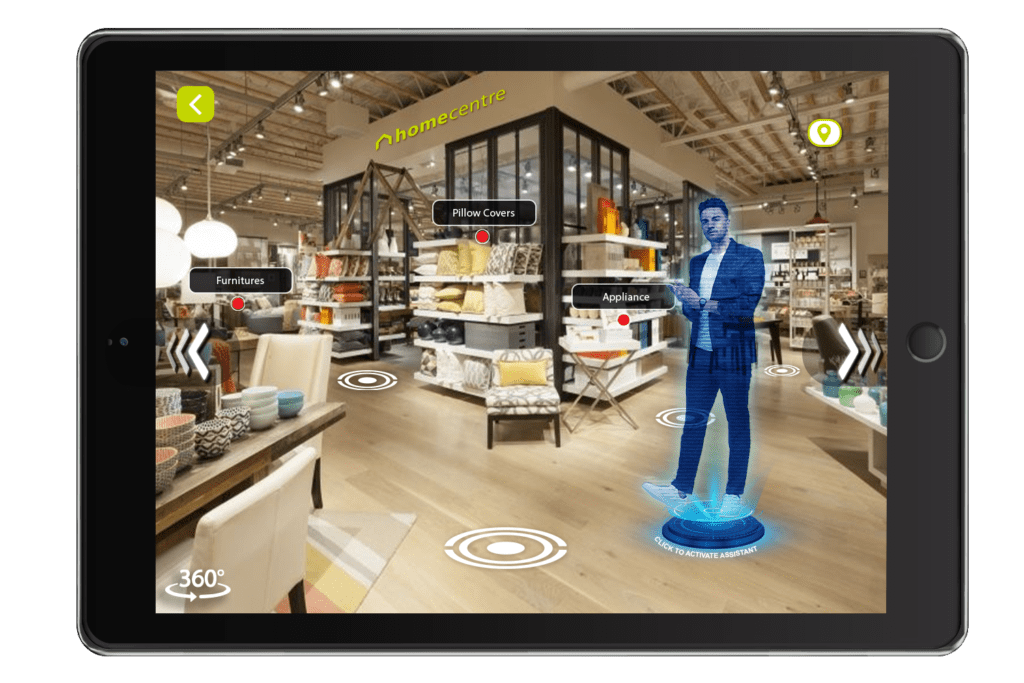 Retailers in the furniture industry face various challenges regarding engaging customers and boosting sales. However, embracing the power of 3D and Augmented Reality can transform retail merchandising and overcome these challenges into opportunities. By expanding product offerings, providing realistic visualizations, enabling customization, and enhancing customer satisfaction, retailers can create memorable experiences that drive footfall, increase sales, and position themselves as industry leaders.
Discover the potential of 3D and AR for your furniture retail business. To learn more about how Avataar is helping retailers revolutionize their merchandising strategies.
Captivate customers and unlock new possibilities in the evolving world of furniture retail. Read how retailers are winning more customers and business with 3D and AR.